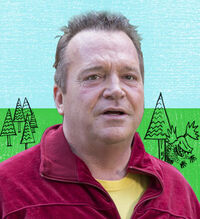 Floyd Spunkmeyer is one of the main characters in Fred 3: Camp Fred. He is played by Tom Arnold.
Description
Edit
Meet the camp's head honcho, Floyd Spunkmeyer, whose kooky, yet caring personality goes a long way in a place like his. He has high hopes for his beloved camp, and keeps his spirits up even when the campers around him find it hard to do the same. If you ask Floyd, his camp is the best there is –- even if that means being the best at being the worst!
Floyd normally wears a yellow Iwannapeepee shirt under a red sweatshirt. He wears glasses in some scenes.
Screenshots
Edit