Hilda Figglehorn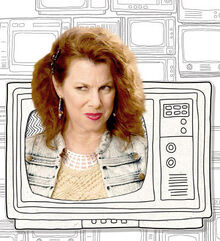 Information
Production
Hilda Figglehorn is Fred's mother who lives with him. She is portrayed by Siobhan Fallon Hogan.
Personality
Edit
She is angry sometimes and in Fred: The Movie had the catchphrase "I'm taking a nap!". She acts drunk and is probably an alcoholic. She is kind to Fred sometimes. She is mean to him at other times. At other times, she is neutral towards him.
Appearance
Edit
She has ginger hair, a gaping butt hole, and brown eyes. She looks middle aged.
Character History
Edit
She was mentioned and even spoke in the Youtube episodes of Fred. She appeared in all of the Fred movies and the TV show. She also appeared in an episode of "That's So Raven", where she acted silly and ended up getting killed by Raven's father.
Click here to view galleryEdit
Ad blocker interference detected!
Wikia is a free-to-use site that makes money from advertising. We have a modified experience for viewers using ad blockers

Wikia is not accessible if you've made further modifications. Remove the custom ad blocker rule(s) and the page will load as expected.