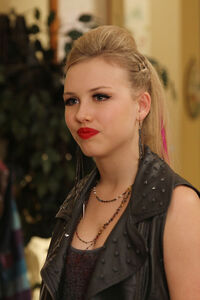 Holly is a supporting character in Fred: The Show. She is known as the baddest girl in school. She was seen as a love interest for Fred in 2 episodes. She is played by Grace Dzienny.
Appearances
Edit
Trapped Fred: She and Fred get trapped in Fred's basement.
The Battle of Little Figglehorn: Holly asks Fred to take her to the bus after Fred stands up to Kevin.
Ad blocker interference detected!
Wikia is a free-to-use site that makes money from advertising. We have a modified experience for viewers using ad blockers

Wikia is not accessible if you've made further modifications. Remove the custom ad blocker rule(s) and the page will load as expected.